Here at Henneke Fish Hatchery, we carry various fish hatchery supplies. These supplies include feeders, aeration supplies, fertilizer and pond dye. All of our products are guaranteed to give you the tools needed to have a well-kept lake or pond.
Whether you're installing a pond on a golf course or nurturing a local lake, we have a product that will suit all of your needs. If you are not sure exactly what type of product or supplies you will need, do not hesitate to give us a call. Our trustworthy and knowledgeable staff is always on hand to help.
We also have a fish hatchery design service. For those who are looking to dig out a pond, contact us today to help you with determining location and size of the pond. There are many great tips and advice we can give you to make sure the job gets done the right way.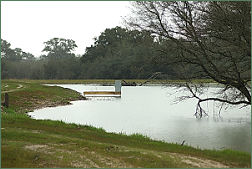 Henneke Fish Hatchery has for years depended upon the versatility, function and unsurpassed ruggedness of quality, Texas-manufactured feeders.
Says Henneke, "Get the right piece of equipment, and get it right the first time." Henneke Fish Hatchery is your source for Ranch King, Sweeney, and Allseasons feeders. They are sure to have the right feeder to fit your needs.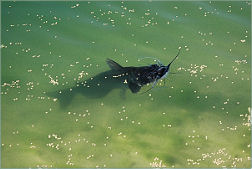 Fish food is being developed, and tested, on a more aggressive basis than ever. The Henneke team stays abreast of all new feed-relevant developments and product introductions, and brings that valuable information to Hatchery customers as an essential part of doing business.
Whether it's for a golf course fairway or to ignite blossoming plankton blooms within the confines of a trophy-producing farm pond, appropriate fertilization with the right kind and right amounts of fertilizer is absolutely essential. Henneke Fish Hatchery knows fertilizer like race-car drivers know parts and tires, and our hatchery personnel can fast-track you to the fertilization enhancement process that most dramatically benefits your fishery.
Some, but not all ponds, benefit immensely from the application of dye. The Henneke Fish Hatchery management team will assess your body of water and make an educated call. If your pond or lake needs an application, Henneke and sons will guide you through the process in order to make sure that your body of water enjoys the maximum benefit.